Day 1 Tallinn – Gateway to the Baltic
Arrival in Tallinn airport or harbour. Private transfer by sedan car to your hotel. Overnight at one of the nice and charming small hotels (e.g. Merchant's House Hotel) in the Old City of Tallinn.

Day 2 Tallinn (B)
After breakfast you will explore the city's most important sights on a three-hour walking tour of the old parts of the city. You have time for a stroll to enjoy the wealth of its medieval architecture. From Toompea, the Castle hill, you have a magnificent view over the city and the Baltic Sea.
Overnight in Tallinn.

Day 3 Via Baltica (B, car, 270 km)
You travel along the famous Via Baltica from Tallinn via Pärnu to Riga, the capital of Latvia. In August 1989 the Estonians, Latvians and Lithuanians formed a human chain through all the three countries, and Via Baltica became to symbolize the road to freedom. Arrival in Riga in the evening. Overnight at one of the small hotels of the city (e.g. Konventa Seta Hotel).

Day 4 Riga–a Lesson of Architectural Styles (B)
The morning sightseeing introduces Riga's historic sights, which display a wide variety of architectural styles. Overnight in Riga.

Day 5 Lithuania – Outpost of Latin Culture (B, car 445 km / 277 miles)
Tour proceeds to the town of Siaulilai, you will see a spectacular sight: a mound covered with thousands of big and small crosses. The locals call this place the Hill of Crosses. Then onwards to Kaunas, the former capital of Lithuania. Continue towards Vilnius where we overnight in one of the small hotels (e.g. Hotel Artis).

Day 6 Vilnius (B)
In the morning you will get a close view of the monumental sights of Vilnius, all bearing witness to the rich history of the city. They include the Cathedral, the University, which dates back to the 1570's, and the white church of Saints Peter and Paul. Overnight in Vilnius.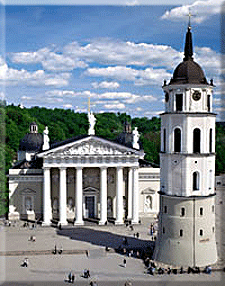 Day 7 Back home (B)
Transfer to Vilnius airport for your flight home.