Day 1 ARRIVE BERGEN (D)
Individual arrival in Bergen. Tour begins this evening. Your hotel is ideally located right in the heart of picturesque Bergen. Enjoy a Welcome reception and dinner. Overnight at Radisson SAS Royal Hotel.

Day 2 BERGEN (B)
Visit Troldhaugen, former home of Edvard Grieg, Norway's foremost composer. The afternoon is free to explore Bergen; take a ride on the funicular up one of the hills for a panoramic view of Bergen's intricate harbors. Overnight at the Radisson SAS Royal Hotel.

Day 3 STAVE CHURCH - FJÆRLAND (B, L,D)
Stave churches are Norway's national monuments, where the spiritual message is intertwined with incredible architecture; visit Hopperstad Stave Church. Take the ferry from Vangsnes to Fjaerland, visit the Norsk Bremuseum, and travel to Loen. Overnight at the Alexandra Hotel.
Day 4 CRUISE TO GEIRANGERFJORD (B, L,D)
Enter the mysterious realms of Norangsvalley, filled with dramatic cliffs – the kind of rugged landscape described in fairy tales. Travel to Hellesylt for a ferry cruise into the Geirangerfjord, recently named as a UNESCO World Heritage Site. It's a scenic jewel set amidst sheer, towering cliffs and cascading waterfalls, boasting magnificent views from Dalsnibba. Overnight at the Alexandra Hotel.

Day 5 ÅLESUND (B, B,D)
Travel to Norway's largest coastal fishing town, charming Ålesund, renowned for its Art Nouveau architecture and a bit of Nordic mythology; afternoon is at leisure. Overnight at the Radisson SAS Hotel.

Day 6 TRONDHEIM (B)
Fjords, islands and peninsulas line Norway's coast. Take a ferry to Molde and travel to Trondheim, the ancient first capital of Norway, where the kings of Norway were once crowned. Trondheim today is a center for high tech, education and cultural arts. Overnight at the Britannia Hotel.

Day 7 COASTAL VOYAGE (B, L, D)
Enjoy a morning visit to the Ringve Museum, which houses musical instruments from around the world. Transfer to the harbor to embark on the northbound journey to the Land of the Midnight Sun. Your captain will make calls at 26 or more coastal Norwegian towns over the next four days! Overnight on board.

Day 8 LOFOTEN ISLANDS (B, L, D)


When you cross the Arctic Circle you have arrived in the Land of the Midnight Sun, though you can't see the actual border. Cruise along the Norwegian coast and make a port of call at Bodø, where you have an opportunity to visit the Norwegian Aviation Museum for a look at Norway's civil and military aviation history. Cruise by the Lofoten Islands, where Coastal Voyage makes two calls and enters the narrows of Raftsund. Overnight on board.

Day 9 HARSTAD - TROMSØ (B, L, D)
Dock early morning in Harstad, a center of fishing and agriculture, renowned for growing huge strawberries. Travel to Tromsø, home to the world's northernmost university. The Capital of the Arctic is known for its rich cultural life and strong Nordic traditions. A local guide, exclusive to our guests, takes you to the Tromsø Museum and the unique Arctic Cathedral. Overnight on board.

Day 10 HAMMERFEST - NORTH CAPE (B, L, D)
Call into Hammerfest, where early risers may wish to go for a stroll. Take an overland excursion to the North Cape, Europe's most northern point, and enroll in the Royal North Cape Club. Return to the ship for a final night at sea. Overnight on board.

Day 11 KIRKENES - OSLO (B, D)
Disembark mid-morning at Kirkenes, where you are only eight kilometers from Russia, one hour from Murmansk and as far east as Istanbul! Transfer to the airport for your flight to Oslo, via Tromsø, for a two-night visit. Overnight at the fabulous Continental Hotel, ideally located on Karl-Johan Boulevard.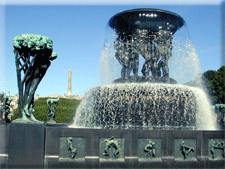 Day 12 OSLO (B, D)
Tour Norway's capital to see famous sculptures by the artist Vigeland, and drive to the Bygdoy Peninsula to visit the Viking Ship Museum, featuring well-preserved ships and artifacts from the Viking era. The afternoon is yours to explore on your own. Join us for a reception and farewell dinner. Overnight at the Continental Hotel.

Day 13 OSLO - DEPARTURE FOR USA (B)
Tour ends: Oslo International Airport 2 1/2 hours before the departure of our selected SAS flights). Persons departing at other times should secure their own transportation; taxi is approx. USD $107.