Day 1 IVALO - SAARISELKÄ - HOTEL KAKSLAUTTANEN(D)
Individual arrival at the Ivalo Airport, where you will be met by your guide. Transfer by private car to Saariselkä and Hotel Kakslauttanen, the traditional ski resort of Northern Lapland north of the Arctic Circle. Saariselkä, one of the best-known winter centers in Finland, is surrounded by unique fell scenery illuminated by the colorful Northern Lights during clear winter nights. Here you can experience the true spirit of Lapland. Enjoy your Christmas holidays with activities such as reindeer and husky sleigh rides, snow boarding, downhill or cross-country skiing. Your snow adventure begins with a delicious dinner at Kakslauttanen hotel's log restaurant. Overnight in a cozy first-class log cabin with shower/toilet, kitchenette and fireplace. All the cabins even have their own traditional Finnish sauna.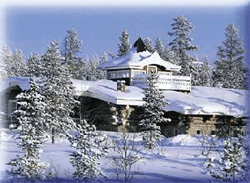 Program for Christmas Eve, 24th of December
9:00-10:30 Christmas breakfast
10:30 Departure by snowmobiles for our adventure to select the Christmas tree
13:00-15:00 Lunch and decoration of the Christmas tree
Christmas sauna in your own cozy log cabin
16:30-18:00 Departure for the Christmas Eve service at Tieva Chapel (1 mi. from the hotel)
19:00 A typical Finnish Christmas Eve Dinner (Festive dressing is desirable)
20:30 Arrival of Santa Claus
The one and only Santa Claus comes with his reindeer sleigh to give the presents and listen to children's songs. Everybody can bring their own presents with them and Santa will give them personally.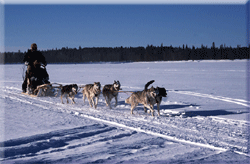 Deadline for Christmas Program is 6 weeks, in case of cancellation after the deadline, the charges are 100% of the total price. It would be advisable to take travel insurance  in case of sickness etc) to avoid any unpleasant surprises concerning the payment.

Extra nights possible before and after Christmas Program.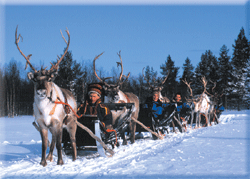 New Years is a special time in Lapland, and the hotel is celebrating the festivities with special activities and programs. Please inquire about special New Years program.