Day 1 KITTILÄ (D)
Arrival at Kittilä airport and transfer to Muonio - Harriniva Holiday Centre (approx. 1 hour). Meet up with the safari group and information about the program for the week. Dinner and overnight in cozy double rooms at the Harriniva Hotel.

Day 2 HARRINIVA - REINDEER SAFARI (B, L, D)
Today you will visit one of the reindeer farms. You will see a slide show about the year of a reindeer's life, which will give you information about the reindeer breeding habits and the role that the reindeer play in the Lapp culture. You will also see a small exhibition of the old traditional tools and things on the premises. Coffee will be served around an open fire in a typical Lapp tent. After the coffee you will be transferred to the reindeer herder's farm, who will tell you about the reindeer and the reindeer husbandry. They will show you how to catch the reindeer with the Lappish lasso, and you can practice it yourself. After you have helped the reindeer herders to harness the reindeer, your safari through the forest begins. One or two persons in the sledge. The duration of the safari is about two to three hours. Lunch will be served by open fire during the safari. Return to Harriniva. Sauna, dinner and overnight.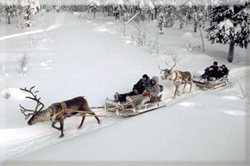 Day 3 SNOW MOBILE SAFARI (B, L, D)
Our experienced guides will show you how to drive the snowmobile and you will spend the day driving through the Fell scenery. Lunch by an open fire in the wilderness. 2 persons per snowmobile. Duration of the excursion approx. 5-6 hours, the distance driven 35-50 mi. Dinner and overnight in Harriniva.
 

Day 4 DAY AT LEISURE (B, L, D)
This day is free for your own activities. You can go cross-country skiing and downhill skiing is possible on the nearby Olos-Fell (transfer to Olos included). Or what about a snow-shoe tour? You can go shopping or just relax. All meals and overnight in Harriniva.
 
Day 5 HUSKY SLED SAFARI (B, L, D)
After breakfast you will pack your equipment and get acquainted with the 300 happy Huskies. You will also be taught how to handle the sled and then you will leave for the two day safari. Lunch by an open fire along the way. Everybody drives their own dog team of 4-5 dogs. You will drive about 15 mi. to a wilderness hut where you will have sauna, dinner and stay overnight.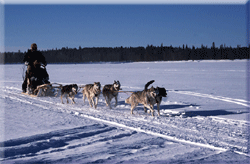 Day 6 HUSKY SLED SAFARI (B, L, D)
Today you will cover a distance of around 25 to 30 km. Lunch by campfire along the way. You will return to Harriniva in the afternoon. After having a relaxing sauna bath you will have a Farewell party with Lapp specialties. Overnight in Harriniva.

Day 7 DEPARTURE (B)
Breakfast and transfer to Kittilä airport.
(This program is interchangeable depending on your arrival time)