Husky Safaris in Lapland
Our Husky Farm is situated just across the road from the hotel and here some 250 eager huskies await your arrival to take you on an unforgettable and exhilarating journey through breathtaking scenery.
Before the Husky safari, you will be provided with the necessary outer thermal suit, gloves and hat on arrival and thereafter you will be shown to your very own team of six Husky dogs. You will be given a lesson on how to drive the sledge and also how to observe all the important hand signals, as given by your leader. Each team consists of six dogs, you the driver, and your passenger who is comfortably seated in the wooden sledge. The driver and the passenger can change places at any time during the safari. You can choose from a shorter Husky safari, which lasts 2 hours and during which you will be served a hot drink or a longer one, which lasts for 4 hours and includes a lunch served over an open fire in a wooden teepee.
Price for 2 hour tour USD $ 145 per person
Price for 4 hour tour USD $ 195 per person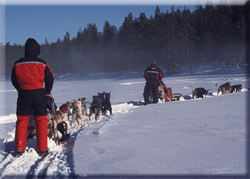 Snowmobile Safaris in Lapland
Our snowmobile safari takes you to the small ski village of Saariselkä situated some 5 mi. away. Private transfer by car from the hotel to the safari office, where you will receive full equipment including thermal suit, boots, socks, gloves, balaclava and helmet. An all-important lesson follows. When everybody is ready the safari trail begins with a drive up to the beautiful Kaunispää fell, 436m above sea level, and from here you will have the most stunning views over the surrounding area. The trail then continues through the beautifully mystical forest. This safari is available for duration of 2 hours including a coffee break or for 4 hours including lunch cooked over an open fire in a wilderness hut. Two persons can share one snowmobile and take turns in driving or you can request one for sole occupancy at a supplementary cost. This safari provides an everlasting memory of true excitement in Finnish Lapland!
Price for 2 hour tour USD $ 120 per person
Price for 4 hour tour USD $ 175 per person
Supplement for own snowmobile USD $ 45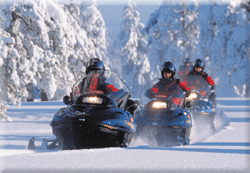 Reindeer Safaris in Lapland
Reindeer safari will ease away all your stress as you peacefully travel through the forest pulled by your very own reindeer. You are picked up by car from the hotel and driven to the reindeer farm where all necessary equipment will be provided. This safari requires no skills and the reindeer will do all the work for you as you comfortably relax in your own sleigh. You can take a short safari lasting 2 hours including a short break for coffee or a longer one which lasts for 4 hours and includes a hot lunch in a reindeer herdsman's hut. This safari gives you a wonderful opportunity to learn all about the Sami people, the indigenous population of Lapland, their traditions and way of life.
Price for 2 hour tour USD $ 120 per person
Price for 4 hour tour USD $ 180 per person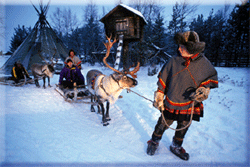 Ice Fishing in Lapland
Ice fishing is a truly Finnish experience and combined with a visit to the Sami museum in Inari will give you a day full of exceptional experiences. After breakfast you will be picked up by private car for the 50 mi. journey to the small village of Inari. Inari lies on the shores of Lake Inari, Finland's third largest lake. To the Sami people the lake is holy, and there are places of worship and old burial grounds still to be found on some of the islands.
On arrival in Inari you transfer to snowmobiles and drive out on to the lake where we find the best place for the forthcoming fishing, the weather conditions will guide us to the best spot. Our guide will drill the hole in the ice and show us how ice fishing is done. Any catch may be kept and the hotel's chef will be happy to cook it for you if you so wish. Lunch will be served over an open fire in the open air.
When the fishing is over you continue by snowmobile to the wilderness church at Pielpajärvi, which is situated about 10kms away. After the visit to the church we continue to Inari and the Sami museum. The museum will give you a very good insight into the life of the Sami people, past and present, as well as of life in Lapland in general. After the visit to the museum your car will return to Hotel Kakslauttanen where you will arrive between 17.00 and 18.00hrs. An English-speaking guide will accompany you throughout the trip.
Price for min. 4 persons by sledge USD $ 225 per person
Price for 2 persons sharing snowmobile USD $ 250 per person
Price for own snowmobile USD $ 290 per person

Reindeer Farm Visit and Roundup
The reindeer farm is located 3 mi. from Kakslauttanen and on the farm you can take a closer view to reindeer and reindeer herding and try lasso throwing. You meet original Sami people and they will tell you about their culture and life. Guiding in English or in German. The price includes smoked reindeer sandwich and coffee/tea/juice. Once a year in the beginning of the winter reindeers are gathered for a roundup. Then they are counted, marked and separated to the different groups. This is an unique possibility to see a living tradition in action.


Sami Culture
We will drive via Ivalo and beautiful Lake Inari district area. From the Inari harbour we will have a cruise on a beautiful Lake Inari. The lake is also called a holy lake for the Sami people. At lake is situated also an island of Leviä Petäjäsaari, the Paradise, as we call it. At the island we will have a picnic lunch. Route back from the island will be different from the driven earlier. While cruising back we will also have a stop on a holy place for Sami people, called Ukonkivi. In Inari we will visit in Siida. Siida is a Sami museum and Northern Lapland Nature Centre in Inari. The exhibitions show how nature and people have adapted to the extreme conditions of the Northern environment: Wonderful photographs, videos, dioramas, sound scapes and original art facts guide us between the seasons and back through the times past.

Cross country Skiing in Lapland
Hotel Kakslauttanen is ideally situated for cross-country skiing. The entire Saariselkä area has a combined trail distance of over 125 mi., and there are varying degrees of trails from family ones to competition and technique trails to nature trails and illuminated trails. The illuminated trail passes by the hotel and is open from 06.00 - 22.00hrs every day and these trails are kept open from early morning even after a heavy snowfall during the night. You can rent skies, boots and poles from us. Cross country skiing is something to try for everybody!

Snow Shoes Excursions in Lapland
Snow Shoes are an excellent way of moving in deep snow in Lapland. With the snow shoes you can make your own trails to the snow covered forest. Snow shoes can be hired from us and there is a 6km snow shoe trail at Kiilopaa fell. Kiilopaa is situated approx. 4 mi. from Kakslauttanen and can be reached by a free ski buss.