Day 1 STREYMOY
Flight from Copenhagen to the Faroes. Shuttle service from the Torshavn Airport to your hotel. Spend the rest of the day at your leisure. Overnight at the Hotel Tórshavn.

Day 2 STREYMOY - TORSHAVN
After breakfast, enjoy a tour of Tórshavn from 8:30-12:30. A combined trip where we travel by foot and by bus. Here you get a good view of the town and its history. Start off with a bus trip, stop at unique view points and on to the newer parts of Tórshavn. Also take a walk in the old part of Tórshavn. We visit Á, Reyni, Tinganes and Fort Skansin. Overnight in Tórshavn at the Hotel Torshavn.
.


Day 3 THE NORTHERN ISLANDS
The morning is to your own disposal. Depart by local bus from the terminal in Tórshavn in the afternoon at 3:25 arrival Leirvík at 4:55. Take the ferry from Leirvík to Klaksvík at 5:00 duration 30 minutes. From Klaksvík take the local bus from the harbour at 15:30 with arrival in Viđareiđi at 6:15. Check in at Hotel Norđ at the village of Viđareiđi. Overnight at Hotel Norđ.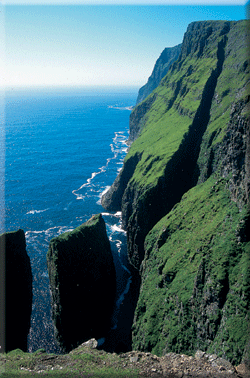 Day 4 VIDOY
A sightseeing trip in Viđareiđi. You will be picked up at the hotel. Visit the church where you can see the silver given by the British Government as a reward for the rescue of part of the crew, when the brig, the Marwood, sank in a storm east of Viđareiđi (1847). Overnight at Hotel Norđ.

Day 5 STREYMOY
Morning to own disposal. Please be sure to cross the fjord with the ferry Dugvan when there is a bus connection to Tórshavn. Check in at your hotel. From 6:00-8:00 we have arranged for a guided tour to viewpoint Sornfelli. By coach and guide, via the mountain road to Mount Sornfelli (749m) where the view over the islands is absolutely fantastic. Return to Tórshavn along the coast. Overnight in Tórshavn. 


Day 6 VAGOY
Morning to own disposal in Tórshavn. Check-out of the hotel at noon. Take the local airport coach from the terminal in Tórshavn to Hotel Vágar - several departures. Check in at Hotel Vágar. Rest of the day to own disposal.


Day 7 BŘSDALAFOSSUR
Today a catamaran takes you from the lakeside of the water Sřrvagsvatn to Břsdalafossur. The tour provides surprising sceneries on the way. Relax and enjoy an easy end to your last day of your journey to the Faroe Islands. Walk from your hotel to the Old Pilots Harbour. (approx. 20 min) Tour starts by the Old Pilots Harbour at 11:00. Duration 2 ˝ - 3 hours. Overnight at Hotel Vágar.


Day 8 DEPARTURE
Departure from the Faroes. Shuttle service from hotel to airport.