Day 1 DEPARTURE USA
Sit back, relax and enjoy your comfortable flight on Icelandair bound for Reykjavik and the Keflavik Airport.

Day 2 KEFLAVIK - REYKJAVIK - SPA
Early morning arrival in Iceland and the Keflavik Airport. Transfer by Flybus, departing directly from the airport and stopping at your hotel, ideally located in the city center of Reykjavik. Today enjoy the "Feel so Fit" spa treatment at Nordica Spa, Iceland's largest Spa hotel. Enjoy a session in the gym, hot tubs, aromatic steam baths and sauna, followed by a Shoulder- and Scalp massage. An Icelandic "Skyr" health drink will boost your energy. Maybe you'll also choose to use the fitness center, staffed by helpful trainers who can set up a special workout program for you during your stay. Overnight in deluxe room at the newly renovated, elegant Nordica Hotel. Optional excursions such as walking tour of Reykjavik available.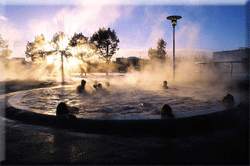 Day 3 REYKJAVIK - LAUGAR SPA (B)
Enjoy a beautiful, healthy Scandinavian breakfast buffet at your hotel. Morning is free to explore the city. This afternoon enjoy a visit to the luxurious Laugar Spa, Iceland's newest 5 star Health and Beauty Spa, just a short walk from the Hotel Nordica. Laugardalur, Iceland's largest geothermal outdoor swimming pool lies in the Laugardalur Valley, richly blessed with hot springs.
At Laugar Spa you enter an aquatic haven with six different saunas and steam rooms, massage showers, geothermal waterfall. Experience sounds of nature, a starry night sky and inhale different aromas. You can also rewind in a relaxation room which features a huge central fireplace.
Optional treatments (please book in advance) and health food cafe available at the Laugar Spa.
After your relaxing treatment, you might visit the Laugar Café with various selections of light health food, sandwiches and drinks all day. Or enjoy the protein bar which offers various drinks made from traditional Icelandic skyr and juice from fresh fruits and vegetables. Overnight at the elegant Nordica Hotel.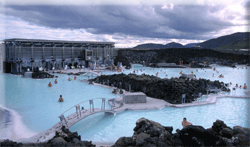 Day 4 REYKJAVIK - BLUE LAGOON (B)
Breakfast at the hotel. This morning at leisure to explore more of the sights in this beautiful city. You might also join an optional morning excursion of horse riding to the lava fields surrounding the Helgafell volcano. This afternoon you have time for some shopping, explore more of the sights, visit Perlan, or simply relax at the Hotel Spa.
This evening will be one of the unforgettable highlights of your visit to Iceland. At 18:30 you drive to the Blue Lagoon, a geothermal wonder of nature. Swim in a pool of pure, mineral-rich geothermal sea-water in midst of black lava fields, snow-covered in the winter. In a unique ecosystem, high levels of silica, minerals and algae give the lagoon its rich blue color. A natural steam sauna awaits you in one of the lava caves surrounding the pool. The waters of the Blue Lagoon have been found to have healing powers for several skin ailments, and people from all over the world come to bath and use the Treatment Center established at the Blue Lagoon. Overnight at the fabulous Nordica Hotel

Day 5 DEPARTURE (B)
After your delicious Scandinavia breakfast buffet, you have time for last minute shopping. This afternoon transfer by Flybus to the Keflavik Airport for your return flight on Icelandair bound for the USA.


The Nordica Spa: The Nordica Spa offers luxury treatments with mineral salt baths, steam room, a well-staffed fitness center and a genuine Finnish sauna in its own outdoor garden. Relax after your treatment in a special lounge while enjoying soothing music or birdsong. Spa treatments can be arranged for couples together. There are special massage facilities for pregnant women.

The Laugar Spa & World Class Gym is a ***** star Spa and Health resort and has one of the best equipped fitness centers in Europe.
The health & spa resort is situated in a valley known as Laugardalur, a beautiful leisure area blessed with hot springs, complete with botanical gardens, a family zoo and an activity park. Laugar, an 18,000-square-meter health and swimming resort, has a full-sized outdoor pool and an Olympic-sized indoor pool, seven Jacuzzis and a big thermal pool for family fun. Other facilities at Laugar include gym, spa, beauty- and massage salon, restaurant, hairdressing salon and a sports shop.

In Laugar Spa there are six different saunas and steam rooms – each with its unique design. Soothe your tired body in a Thalasso therapy Jacuzzi, special foot pools, seawater hot pools and a cold waterfall for bathing.

Guests are pampered with aromatherapy massage, reflexology, hot stone, salt or raindrop treatments featuring E'SPA products. Relax in the indoor quiet room with recliners by soft music and a roaring fire. There's even a 20-ft. wide indoor waterfall made of smooth granite by Sigurdur Gudmundsson, one of Iceland's most prominent artists.

World Class Gym is bright and spacious and contains the best in state-of-the-art fitness equipment from the world's leading manufacturers. A wide variety of classes are available in addition to well educated personal trainers who are there to assist you.