Day 1 HANSTHOLM
Independent arrival in Hanstholm. This evening board the new M/F Norröna for your cruise to the Faroe Islands. With her maiden voyage in March 2003, the brand new Norröna has replaced the old ship. The new ship has the standard of a cruise liner with many modern facilities. Passengers have many possibilities to pass the time on board the new "Norröna". Enjoy the swimming pool and fitness center with sun beds and sauna, and a large playroom for the children. There is a large selection of goods in the shops for your duty-free shopping. Overnight in your comfortable cabin of choice on board.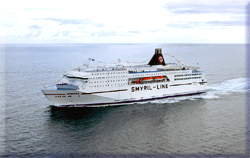 Day 2 AT SEA
Spend you day at sea. Pass many oil digging platforms in the North Sea en route to the islands. As we sail through the Shetland Islands make sure to have binoculars for spectacular views of the shore. On the new Norröna you can enjoy the many amenities, swimming pool, fitness center, entertainment, and shopping on board. Overnight onboard.


Day 3 ARRIVAL TORSHAVN
Early morning arrival in Torshavn. Disembark and transfer on your own to the hotel. Spend your day at leisure exploring the smallest capital in the world! Overnight at the Hotel Hafnia.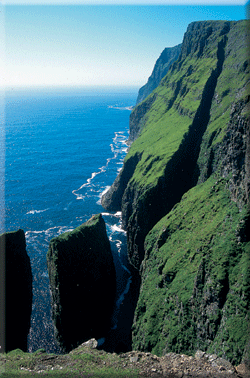 Day 4 - 7 FAROE ISLANDS (B)
Breakfast daily. Spend these next few days on your own to explore the sights and attractions of these beautiful islands. Join in any of the optional excursions. Experience the islands Klaksvik and Vidareidi or the Old Cultural Center Kirkjubour and Velbastadur, or perhaps the Vestmanna Bird Cliffs. Enjoy the gourmet cuisine at the hotel and the unique view over the city of Torshavn. Overnight at the Hotel Hafnia.


Day 8 DEPART TORSHAVN (B)
Breakfast at the hotel, transfer on your own to the airport.