Day 1 REYKJAVIK – ÞINGVELLIR – GULLFOSS – FLÚÐIR (D)
The tour begins with a drive past the Nesjavellir geothermal area to Lake Þingvallavatn, Iceland's largest lake, and Þingvellir National Park. Visit the golden waterfall Gullfoss, and the hot springs at the Geysir area before heading to the village of Flúðir.

Day 2 ÞÓRSMÖRK (B, D)
A day filled with beautiful and spectacular sights. Þórsmörk nature reserve offers a unique composition of glaciers, rocks and greenery. Visit the impressive waterfall Seljalandsfoss and walk up to the edge of the Eyjafjallajökull glacier.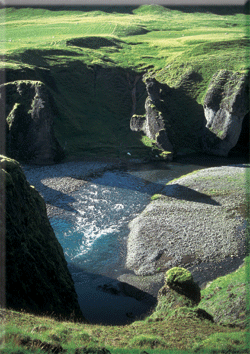 Day 3 FLÚÐIR - SPRENGISANDUR - LAKE MÝVATN (B, D)
Across the wilderness of Sprengisandur, a wild, desolate land of breathtaking emptiness. Pass the largest continuous lava field in Iceland, Ódáðahraun, before descending into the greenness of the sheltered Bárðardalur valley.

Day 4 DETTIFOSS - ASBYRGI - HUSAVIK (B, D)
Drive through the beauty of Lake Mývatn, to Dettifoss, Europe´s most powerful waterfall, as it thunders down into the Jökulsárgljúfur canyon. Continue to Ásbyrgi, a horseshoe-shaped canyon. Stop in Húsavík village, for a whale watching tour.


Day 5 LAKE MÝVATN (B, D)
Exploring the natural wonders of Lake Mývatn area, surrounded by lava fields, volcanoes and mountains. Optional: Full day excursion into the desert highlands of Dyngjufjöll mountains to Askja caldera.

Day 6 VOPNAFJORDUR - EGILSSTAÐIR (B, D)
Head through the interior highlands to Vopnafjörður and explore this beautiful oasis on the boarder to the arctic, enjoy a swim in the beautiful swimming pool on the banks of River Selá. Visit Burstafell farm before continuing over Hellisheiði mountain pass.


Day 7 EAST FJORDS (B, D)
From Norðfjörður drive along the rugged and varied coastline of the East Fjords. Towering mountains, their bare rock faces ridged by the forces of weather and wind, plunge vertically into the sea to form, Iceland's magnificent East Fjords.

Day 8 DJÚPIVOGUR - SKAFTAFELL - KIRKJUBÆJARKLAUSTUR (B, D)
The first stop is at Almannaskarð pass which offers a striking view of Vatnajökull glacier and the coastal area. Drive to Jökulsárlón Glacial Lagoon before continuing to Skaftafell National Park for a leisurely hike.


Day 9 LAKI VOLCANIC CRATERS (B, D)
A full day tour from Kirkjubæjarklaustur to the area of Laki volcanic craters, famous for the eruption in 1783, when a big lava flow formed the spectacular Eldhraun lava field.

Day 10 KIRKJUBÆJARKLAUSTUR - LANDMANNALAUGAR - REYKJAVIK (B)
Drive along the Fjallabaksleið interior track to Landmannalaugar, a magnificent area surrounded by colorful rhyolite mountains where bathing in a natural warm pool is an option. Return to Reykjavík in the afternoon.